CLERGY
Together with dedicated leaders and staff, Rabbi Nathaniel (Nat) Ezray is building an inspiring community full of joy and connection. When you walk into CBJ, you feel hope, relevance, love, and care – which emanates from Rabbi Ezray.
Rabbi Ezray joined CBJ in 1995 after serving as Associate Rabbi at Temple Emanuel in Newton, Massachusetts for four years. He is passionate about CBJ being a place of learning, different types of prayer experiences, social justice and community. Rabbi Ezray treasures relationships and walking through every significant moment in life together with you.
Rabbi Ezray seeks to create connections and inclusion. Programs ranging from our L'dor Vador, (from generation to generation) which partners our B'nai Mitzvah students with older congregants to our Oral History project where the stories of our members are captured via interviews lift up the power of story to transform life. CBJ has been an innovator and leader in inclusion of those with special needs and received the prestigious Rosh Pina Certification for the systemic inclusion of Special Needs students. Our Religious School welcomes children of all experiences, doing our very best to help them thrive and connect to their Jewish identity.
Teaching and learning are the cornerstone of Rabbi Ezray's rabbinate. He loves telling stories to the Preschool, teaching the B'nai Mitzvah students, digging deep into each verse of the Torah in our weekly Torah class. He loves interactive learning from the bimah and treasures every opportunity to teach.
Rabbi Ezray believes in providing multiple doors of entry into Jewish life – ranging from different types of religious services to cultural programs celebrating Jewish life. He seeks to create meaningful connection to Israel by forging relationships with different organizations in Israel which seek to bring Jewish values to life - Adi Negev, AICAT, and United Hatzalah. He has been active in bringing respectful dialogue to life at CBJ where we learn about and practice listening to one another with respect and curiosity – especially when we disagree.
Rabbi Ezray is involved in all aspects of local, national and international community. He has traveled to Mexico with American Jewish World Service seeking to understand how we can influence positive change for those in desperate situations. He works with a variety of organizations – including those fostering connection to Israel, Jewish education, civil engagement and helping those in need. He helped organize a community conference to address sexual abuse in the Jewish community and has been instrumental in creating interfaith connections. He currently serves as the President of the Northern California Board of Rabbis. His involvement spreads well beyond that of the four walls that we inhabit.
Rabbi Ezray grew up in Sacramento, California, and is blessed with his wonderful wife Mimi, and two children, Emily and Ethan. In his spare time, he enjoys hiking, reading, good restaurants, and making health a priority.
Rabbi Ilana Goldhaber-Gordon joined Congregation Beth Jacob in 2015, initially as School Director and now also as Associate Rabbi. Rabbi Ilana connects to people of all ages with joy, honesty, and empathic listening. Leading by example, she has ensured that Religious School hours are filled with love and with happy children, who feel at home in the synagogue and who know that the adults care for them as individuals. She is a supportive presence for adults and children alike, both during formal lifecycle events and for the more private ups and downs of life.
Rabbi Ilana engages deeply with Jewish tradition, using creativity sharpened by knowledge to draw the past into our lives today. She enjoys teaching a "Mondays with Meaning" class at 10:30 a.m. every Monday, currently focusing on Pirkei Avot (The Ethics of the Fathers), and a Hebrew-text class on Wednesday mornings. The Wednesday schedule shifts, so if you are interested check in with her directly. She teaches in other forums throughout the year, both within CBJ and beyond, and often offers a sermon on Shabbat mornings. She is deeply involved in the synagogue's Social Action work and Israel engagement.
Rabbi Ilana received Rabbinic ordination from the Academy of Jewish Religion, California, a post-denominational school with a spiritual bent. She also studied in the Kollel of the Conservative Yeshiva. The Rabbinate is a second career for her; she received her Ph.D. in biology from the Massachusetts Institute of Technology, and a bachelor's degree in biology from Harvard University.
Rabbi Ilana and her husband, David, moved to the Bay Area in 2002, and their home has been a center for Jewish community ever since. They are blessed with three children.
Barbara Powell, Beth Jacob's Cantor since July 2007, leads services and teaches music and t'fillah to adults as well as in the Religious School. She coordinates lay service leaders and Torah/Haftarah/Megillah readers with an eye on making the services accessible and participatory. Contact her at the above address if you would like to get involved in chanting Torah or Haftarah at Shabbat or holiday services. Prior to CBJ, Barbara taught and led services at congregations in Northern California and the East Coast, taught music privately and at San Francisco public schools, and did extensive social service work. Her singing career spans many genres, from jazz to liturgical. Barbara holds a BA in community studies from the University of California, Santa Cruz, studied in Israel, and grew up on the Peninsula.
Bill Futornick has served as a clergy partner at Congregation Beth Jacob since 2002. In this role, he is a teacher and mentor to all ages, and especially to the youth of CBJ. One of his chief contributions and joys is to create connections and form relationships with the people of our community. To that end, Bill maintains contact with the vast majority of B'nai mitzvah students he has taught, staying in touch through college, and post-college years.
Bill works with each of our B'nai mitzvah students individually as a mentor. He oversees our teen, college, and young adult outreach programs. Bill has a love of learning and teaches all ages, from preschool to seniors, including Adult B'nai Mitzvah students and alumni of our Adult B'nai Mitzvah classes. For him, there's nothing better than finding new meaning in our texts and helping others connect with the tradition in meaningful ways. Bill has led several synagogue groups to Israel and is a passionate supporter of Israel. Bill especially loves the humanitarian and research projects that CBJ supports in Israel, including Adi Negev, the Central Arava Medical Center, AICAT, Project Leket, and the Arava Institute, to name a few.
Bill has been actively involved in the broader Jewish community, serving on the Board of Directors of the Gideon Hausner Jewish Day School, Advisory Committee of the Peninsula Jewish Teen Foundation, and in the American Jewish World Service.
Before coming to CBJ, Bill worked in the corporate world as an executive search consultant. He remained involved in synagogue leadership throughout, reading Torah, and serving on synagogue boards. He has a degree in history from Princeton University. Bill was born in the Bronx, raised in New Jersey, and is blessed with a wonderful family.
Rabbi H. David Teitelbaum, z"l Rabbi Emeritus
Cantor Hans Cohn, z"l Cantor Emeritus
STAFF
Keren is thrilled to join Congregation Beth Jacob! With years of experience leading Jewish communities, including as Executive Director of Congregation B'nai Tikvah in Walnut Creek, Keren is dedicated to creating a קהילה קדושה, Kehilla K'doshah: an inclusive environment in which each individual can find their own connection to Jewish tradition, Jewish values, and to the community. She is excited to join the CBJ team and work with Rabbi Ezray and the clergy and lay leaders to advance our mission. Keren is passionate about enriching congregational life through building relationships, understanding members' needs, and creating meaningful and innovative programs.
Despite her all-American name, Keren was born and raised in Israel. Originally from Savyon, near Tel Aviv, Keren moved to the United States in high school. She holds a BA in Psychology and Jewish Studies from Rutgers University and an MBA in Organizational Psychology from Zicklin School of Business.
Keren is an avid reader and hiker and can often be found on the trails of Mt. Diablo on weekends. She lives in Clayton with her three children: Jordan, Daniel, and Amalia.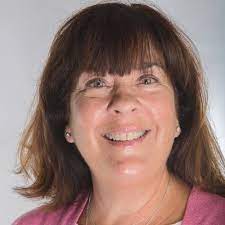 Ann Cauterucci is the founding director of the Beth Jacob Preschool. Her more than thirty years in Jewish early childhood education include twenty years at Ta'Enna Preschool at the Palo Alto Jewish Community Center, where she taught and ultimately directed the program.
Ann has led numerous teacher-training workshops both locally and nationally and coordinated a mentor teacher program for Palo Alto Community Child Care.
She received the prestigious Grinspoon-Steinhardt Award for Excellence in Jewish Education in 2003.
Chami Lerner, Director of Facility Operations and Events
Natalya Martyushova, Director of Family Educational Programs
Martin Hernandez, Facilities Manager
Tue, December 5 2023 22 Kislev 5784